OUR HISTORY: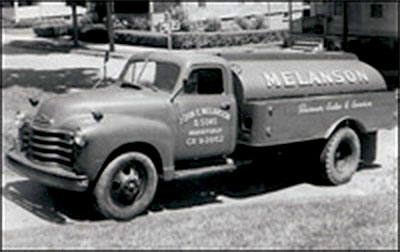 Mel & Sons Oil Sales, Inc. was established in 1989 by Howard E. Melanson, Sr. Howard passed away in June of 1998 at the age of 63. His two youngest children, Timothy D. Melanson and Howard E. Melanson, Jr., have owned and operated the business since then.
Mel & Sons is a third generation oil company dating back to 1945. John E. Melanson (father to Howard, Sr., grandfather to Tim and Howard, Jr.) started an ice and oil delivery business in Wakefield, MA. This business was later known as John E. Melanson & Sons. Howard, Sr. worked alongside his father for many years. He learned and developed the service aspect to his father's business. After his father's death in 1967, Howard, Sr. owned and operated John E. Melanson & Sons.
In the 1970's, during the oil embargo, Howard, Sr. merged with Shirreff Oil in order to ensure that his customers' homes would be heated. This new company was known as Shirreff-Melanson Oil. Howard, Sr. continued to service his customers here until 1989 when he started his own company, Mel & Sons Oil.
MEL & SONS TODAY: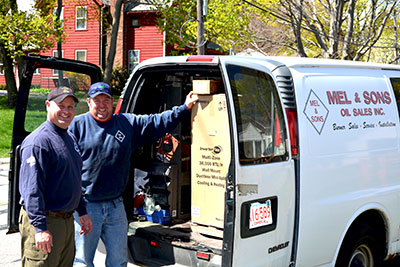 Today, Mel & Sons Oil is a medium-sized, full-service, oil company servicing roughly 800 customers in Wakefield and neighboring communities. We currently own and operate 3 oil trucks, and 2 fully-stocked service vans. This enables us to service our customers' heating needs immediately and efficiently.
Our goal is to keep every customer warm and comfortable all winter long.
We employ 3 full-time service technicians (2 are owners of the company). All our technicians are fully licensed and trained to take care of your heating needs 7 days a week, 24 hours a day. We also have 1 or 2 seasonal drivers to help deliver oil during the coldest months of the year. Our 2 office workers will help with any service or billing questions our customers may have.
We pride ourselves on the courteous, prompt, personal attention all our employees give to our valued customers.